Bill Goldberg was as big a part of the Attitude Era as anyone else, leading the charge in WCW as the undefeated World Heavyweight champion. He dominated the squared circle from 1997 to 2004, including a short stint in WWE, before taking his talents to Hollywood.
The wrestler-turned-actor spoke with me on the Nov. 24 episode ofWrestleRant Radio to talk about how he landed the role for Check Point, acting vs. wrestling, The Rock's success in Hollywood, Brock Lesnarending The Undertaker's streak, WWE WrestleMania 32, future gigs and more.
On the surface, there's plenty of similarities between acting and wrestling. Playing a part and engaging in "scripted" fight scenes—wrestling and acting have that much in common, but the advantage of getting to re-shoot scenes is invaluable, Goldberg says:
There's a lot in common. Being a professional wrestler surely prepares you for any acting role in that we have to act on live television, so there's a lot of pressure put there. Any time you're in front of a camera and have them yell cut, re-shoot the scene, are you kidding me? That's a huge advantage. Compared to what these guys do, twice a week, three days a week, it's a walk in the park. As far as physicality, as far as fight scenes, we're no different, and in some cases we're even better, than stunt coordinators. You also get the best bang for the buck because you get an actor and a stuntman at the same time.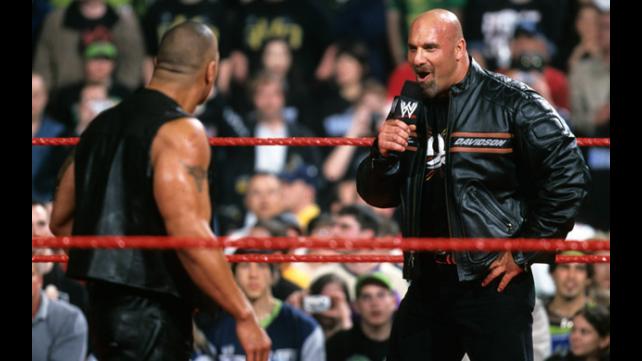 Credit: WWE.com
Dwayne "The Rock" Johnson paved the way for wrestlers-turned-actors such as Goldberg with his roles in summer blockbusters in recent years. He and Goldberg have history dating back to 2003, with The Great One being one of the leading factors behind Goldberg getting into the organization to begin with. He discussed his admiration for The Rock, yet how he's his own individual:
Oh, I love Rock to death, man. He doesn't inspire me as an actor but, I mean, come on. Let's be perfectly honest. I love Rock to death, we're all different people, but Rock's a showman. To think The Rock wasn't going to prosper in this arena, he'd have to be an imbecile. This is something he's wanted to do his entire life. He's always been this guy, and more power to him. I think it's wonderful. The guy is extremely successful. He's rewritten the book when it comes to transitioning between an athlete or an entertainer. He's the new guy, and I love him to death, and I'm very happy for him, and I'm appreciative he's able to follow his dream to do what he does. But he's not me, I'm not him. I'm a head-banger. I'd rather smash my head against something than look pretty walking down a red carpet. It just is what it is. It's not good, bad or indifferent. We're two totally different people. And he inspires me in that he's a guy who's had a dream and has done anything he's had to do to pursue it and perfect it and be the best at it. I value that, I appreciate that, but it does not inspire me.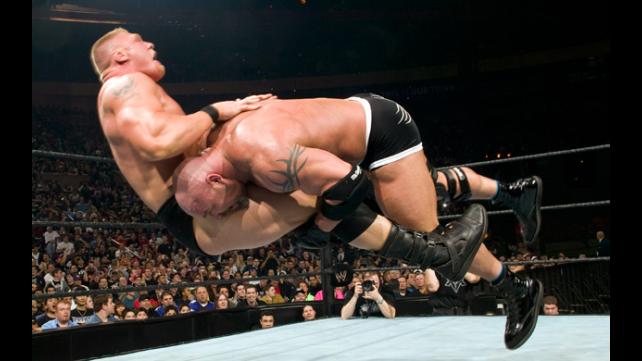 Credit: WWE.com
Another Superstar Goldberg remains in close contact with is BrockLesnar, who the former world champion faced off against in a match at WrestleMania 20, his final bout with the company. He enjoys his lifestyle of picking his spots and doing films on occasion while spending time with his family, but he also explained why Lesnar's current part-time gig with WWE is so perfect:
Absolutely. It's brilliant. If there was one thing I learned from Hulk Hogan, it was less is more in the wrestling world. If you overexpose yourself, people don't want to see you. So, you got to make the people pay and see the big boys. You don't set them up on that pedestal if you see them every day. There's nothing special about it. Brock didn't invent that spot, but he sure reinvented it. It's brilliant. It's perfect, absolutely perfect for him. And I love Brock to death, man. He's my best friend up in that business. He and I see eye-to-eye. We don't have to talk every day, we know what each other's thinking. We are the same person in a lot of ways. We never really talk about the wrestling business. We talk about fighting and fast cars.
On the subject of The Beast Incarnate, Goldberg feels there wasn't anyone more fitting of breaking The Undertaker's undefeated streak at WrestleMania 30:
Who else is going to break it? Who else is legitimately going to break it? One of the most famous people to have stepped in a wrestling ring, if there was ever anyone worthy of it, Brock Lesnar's the guy.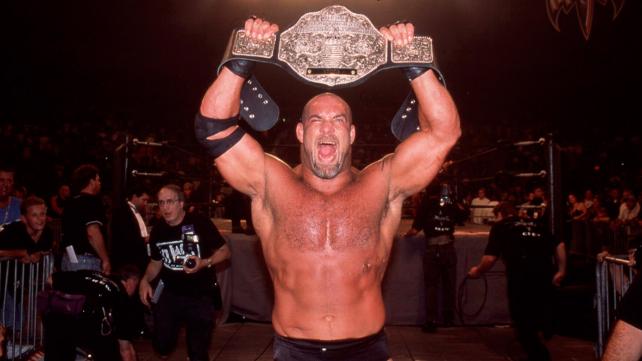 Credit: WWE.com
With WrestleMania 32 quickly approaching, WWE will look to fill the AT&T Stadium in Arlington, Texas, with over 100,000 people, begging the question whether that's even an attainable goal. It's also led to fan speculation that Goldberg might be brought in to add to the stacked card, but he denied having any interest in wrestling, let alone appearing at the event:
I think it's realistic (to fill AT&T Stadium with 100,000 people). I don't know, in this day and age, with the landscape and the talent that they have and the ability to bring other people in. I think it's attainable, no question. Maybe they'll do something with Ronda Rousey. Who knows, man. I don't foresee myself there by any stretch.
Although he likely won't be present at The Show of Shows next spring, he got a taste of what it was like to step back into the ring at Legends of Wrestling at Citi Field in June, hitting the Jack Hammer for the first time in over a decade. When asked about with whom he would want to have his last match, only one name came to mind: